Links for Families

Staff Links

Community Links
Johnny Appleseed Elementary school 
3 months ago
SCHOOL HOURS
Breakfast 7:30 a.m. to 8:05 a.m.
Students not having breakfast should not arrive until 7:45 a.m.
Students enter classrooms: 8:05 a.m.



Late Bell: 8:15 a.m.

Dismissal: 2:45 p.m.

Half Day Dismissal: 11:30 a.m.

Vision Statement
The staff at Johnny Appleseed Elementary School guide our students to become successful lifelong learners, socially competent individuals and responsible citizens.
The third grade students at Johnny Appleseed School want to thank everyone in the JA community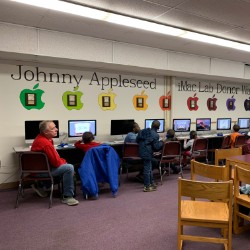 Thanksgiving Food Drive
We want to thank all of the JA families who donated food to Kylee's Care Kits during our food drive. A big shout out to Mrs. Patev's class for organizing this event.








FAMILY MATH NIGHT
Students enjoyed showing their parents how to tackle the Common Core strategies of math.
Johnny Appleseed's Outstanding Educator
Mrs. Mellanie Kelly was recently nominated by her colleagues as Johnny Appleseed's Outstanding Educator of the Year. Well deserved! Mrs. Deacon recently visited JA to acknowledge her award through the Leominster Education Foundation.


Celebrate Lunch Lady Hero Day
Students at JA honored their cafeteria staff today. We appreciate all that they do for us throughout the year.